Tag Archives:
refuel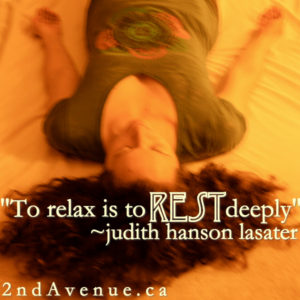 If you're feeling overwhelmed, stressed, burdened, fatigued, dog-tired (hundtræt), over-extended, beat, confused, spent, exhausted, weary, over-committed or just tired and you're in the Copenhagen-area, come join me for deep rest on 25 February from from 15.00-17.30 for a Restorative Wonderland.
This two and a half hour workshop at Hot Yoga Østerbro is a deep restorative yoga practice with gentle mantra music and a long yoga nidra (guided relaxation) that will help you rest deeply and refuel for your regular life. The passive therapeutic practice of restorative yoga provides deep rest for tired bodies, relaxation for busy minds and rejuvenation for the entire nervous system.
The workshop features gentle mantra music and deep yoga nidra (guided relaxation). It costs 250 kr. and is limited to 8 students.
See the Restorative Wonderland page for more information and registration.

A blissful few days of being almost entirely unplugged, along with time spent playing in the snow and the holiday routine of food, friends, and family has left me feeling rejuvenated and relaxed. While the tryptophan from turkey might have something to do with the relaxation, being outdoors also contributes to my feelings of well-being.
The Biophilia Hypothesis posits "that there is an instinctive bond between human beings and other living systems." Basically that connecting with the biological world around us feeds some deep-seated psychological need and improves our mental state.
I first heard the term "biophilia" on The Peak's Suzuki Report segments and the idea immediately made sense. It's rare that I don't feel better, calmer, and invigorated after a wander through the woods or a walk along the water. And the magic of a winter wonderland like nearby Seymour Mountain brings me an additional sense of awe and gratitude!
Happy winter and happy holidays! Hope there's some more snow-filled-nature-time in the near future 🙂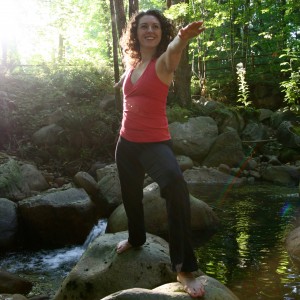 After my Friday evening yin yoga class at Bound Lotus, I was lucky enough to escape the city for a weekend away with friends. The time away (even though we didn't go far) was fabulous. Nothing like a bit of time away from the usual routine to refuel and reconnect.
Great food, great company, great weather… and the Superbowl on Sunday. Amidst all the eating and relaxing I managed to do my sat kriya meditations on Saturday and Sunday (despite the smell of smoking meat for the Superbowl feast threatening my concentration!) and do a lovely hatha sequence – complete with Warrior II.
My contribution to the amazing food came in the form of homemade cinnamon buns. The recipe is a holdover from my eight months or so eating vegan, but you'd never miss the eggs and dairy. If you're not concerned about keeping animal products out of the cinnamon buns, I'm sure butter would work in place of the vegan margarine.
Vegan cinnamon buns
Ingredients
Dough
1 cup plain almond milk
1/2 cup dark brown sugar
2 1/2 tsp instant yeast
2 1/2 cups unbleached all-purpose flour
2 cups white bread flour *
1 tbsp ground cinnamon
2 tbsp ground flax
1/2 cup water
1 tsp vanilla extract
1/3 cup melted soft vegan margarine (such as Earth Balance in the tub)
* You can also use 4 1/2 cups of all-purpose flour if you don't have bread flour. The bread flour just ups the gluten content which means the buns rise a bit more and are chewier.
Filing
1/3 cup soft vegan margarine (like Earth Balance from the tub)
1 1/2 cups dark brown sugar
3 tbsp ground cinnamon
1/4 tsp salt
Method
Warm the milk just enough to still be able to dip your finger in it – microwaving it at 60% for a minute seems to work well

If the milk is too hot it will kill the yeast, so heat the milk slowly

Add the sugar to the warmed milk and stir; add the yeast and let proof for 10 minutes

The yeast/milk/sugar mixture should get foamy on top of the milk; if the mixture doesn't froth, get new yeast and try again

While the yeast is proofing, measure the flour and cinnamon into a large bowl and set aside
Combine the ground flax seeds and water and whip with a hand-mixer or stick blender until it gets thick and frothy
When the yeast is proofed, pour in the melted margarine, vanilla extract, and flax mixture and stir gently to combine
Add the wet mixture to the flour and mix the dough until most of it has come together
Turn out the dough on a lightly floured surface and knead it for 5 to 10 minutes; you know the dough is well-kneaded when it's smooth and soft with an elastic texture
Let the dough rest for 5 minutes while you wash the large bowl and tidy up the kitchen
Place the dough in the now-clean bowl and cover with a tea towel that's been run under hot water and wrung out; set the bowl in a warm place (like a sunny window or on top of a warm dryer – I often wash towels while baking yeast breads so the laundry room is nice and warm) and let rise for at least 30 minutes or until the dough ball has doubled in size
Make the filling by combining the soft margarine with the brown sugar and cinnamon; set aside until the dough is rolled out and ready for the filling
Once the dough has risen the first time, turn it out of the bowl onto a lightly floured surface and lightly punch it into a rectangle
Stretch and roll the dough into a rectangle that is 1/4 inch thick and roughly 16 by 20 inches
Once the dough is rolled out, spread the cinnamon filling evenly over the dough, leaving a 2″ naked margin on one of the long edges of the rectangle

The naked edge is important because it will stick to the outside of the dough once you've rolled it up and seal in your filling

Pick up one of the short edges of the dough and roll the dough into a log; make sure the roll is equal in thickness by adjusting the position of the dough as you roll

The whole roll should be about 3″ in diameter

Gently grasp the dough with both hands and adjust the length by slightly lifting it off the rolling surface; you can also squeeze the roll gently to even out the thickness
Use a sharp knife to cut the dough into 8 roughly equal rolls
Line a 9"x12" baking pan with the parchment paper, with the long ends of the paper hanging over the edge of the pan
Turn the rolls on their ends and transfer them to the pan; position the rolls so they touch each other, rather than the sides of the pan, with the seams turned inwards so the rolls don't unravel during rising or cooking
Cover the pan with the damp tea towel again, re-rinsed in hot water and wrung out; let the buns rise in a warm spot again for 30 minutes, or until they have doubled in size
Preheat the oven to 400F
When the buns are finished their second rising, bake them 15-20 minutes, or until they're light golden brown and cooked through
Separate the buns while they're still warm and let them cool on a wire rack – putting wax paper under the rack catches any cinnamon filling drips and makes clean-up a lot easier