Tag Archives:
easy
While 11 November is Remembrance Day for Canadians (and Armistice or Veterans Day in other countries), it's St. Martin's Day in Germany. St Martin's Day is the feast day for Martin of Tours and was one last great banquet before the start of Advent fasting in the middle ages.  In modern Germany, St Martin's Day is known for roast goose (Martinsgans), lantern processions, and, in Mannheim, human-shaped pastries called Martinsmann.
We picked up a Martinsmann from our local bakery and were underwhelmed by its relative flavourlessness. Rather than waste the leftovers, I bumped them up with spices and apples in a bread pudding.
This recipe is modified from one I use for leftover hot cross buns at Easter. It works best with sweeter bread, but would be just fine with regular bread, too, although maybe with a little more sugar.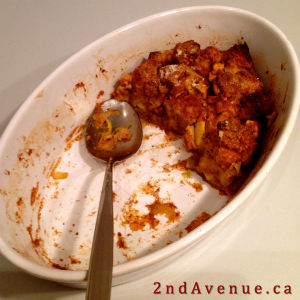 The bread pudding filled the kitchen with a lovely warm spicy smell, just like holiday baking – but it's absolutely easier to make than gingerbread men or Christmas cookies 🙂 All the delicious smells with the ease of chopping up bread and stirring together milk, eggs, and spices!
The end result was so tempting that we devoured most of it before I snapped a photo 😉
We ate this bread pudding plain, but it would also be good with ice cream, whipped cream, or bourbon/whiskey sauce. Adding chopped apple keeps everything moist and makes a sweet, buttery, boozy sauce unnecessary – although not any less welcome!
And if you're interested in the traditional Martinsgans, check out this roast goose recipe from Ginger & Bread.
Bread pudding with apples
Ingredients
450g (1 pound) day old hot cross buns or leftover Martinsmann
700ml (3 cups) milk (or a combination of milk and cream for a richer pudding)
4 eggs, at room temperature
75g (1/3 cups) sugar
1 packet vanilla sugar (or 1 tbsp vanilla extract)
1 tsp ground cinnamon
1/2 tsp ground nutmeg
3/4 of a large apple, chopped
2 tbsp Demerara sugar (or other coarse sugar)
Method
Preheat oven to 180°C (350°F) and lightly grease an ovenproof casserole dish that will fit all the bread cubes

A 23cm (9″) square baking dish should do

Cut leftover bread into cubes (roughly 1cm square) and place in a large bowl
Whisk together milk, eggs, sugar, spices and vanilla; pour mixture over bread and stir until coated
Let the milk mixture and bread rest for 15 minutes; the bread should absorb most of the liquid
Gently stir in chopped apple and pour into casserole dish, pressing down the bread a bit
Sprinkle coarse sugar over top and dust with additional nutmeg and cinnamon if desired
Bake until pudding sets and the top is golden brown – about 1 hour
Eat while warm and serve with whipped cream, ice cream, or bourbon/whiskey sauce if you'd like
We're leaving our flat in Munich tomorrow for one more new-to-us German city. We've done a lot of relocating in the last year and I've definitely gotten better at not leaving good stuff in the pantry.
In order to clean out our cupboards over the last week (and because baking is one of my stress-relievers), I made ham & cheese loaf, applesauce muffins, two batches of brownies (one that failed miserably), and super-easy pancakes (recipe below).
These come together super-quickly (as you'd expect with pancakes) and don't require any measuring equipment other than a teaspoon and a mug – very useful for ill-equipped kitchens, lazy cooks, and short-on-time mornings!
Sadly, I doubt there will be more pancakes tomorrow morning. Probably just last-minute packing, breakfasting on the remaining random bits in the fridge, and grabbing leftover ham & cheese loaf for the drive 😉
Berry-banana Pancakes
Ingredients
1 mugful of flour
1 tsp baking powder
1 pinch salt
1 tsp ground cinnamon
1/4 tsp ground nutmeg
1 overripe banana
1 mugful of milk
1 egg
1 mugful of berries (if frozen, roll them in little flour before adding to the batter to prevent their colour from running too much)
butter for the pan (or nonstick cooking spray)
Method
Stir together flour, baking powder, spices, and salt
Mash banana and mix with egg and milk
Add wet ingredients to dry and combine; then gently stir in berries
Heat butter in pan over medium heat and spoon in dollops (about a large tablespoonful) of batter
Cook until golden brown on both sides

the first side is ready to flip when bubbles appear
the second side is ready when pancakes look and feel firm and slide easily on the pan

Serve with maple syrup, cut up banana if desired, and any remaining berries