Tag Archives:
negativity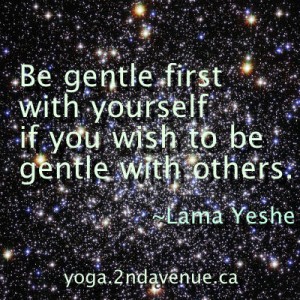 There are a couple situations that reliably bring on negative self-talk and increase the nasty thoughts I think about myself. A couple nights of disturbed sleep and the grey nastiness of the slushy weather outside have led to recurring thoughts that I don't care enough about others and that I'm not nice enough, considerate enough, or loving enough; that I'm just overall not enough.
Days like this, I need a reminder that I am enough. I need a reminder that it's okay to be gentle with myself. I need a reminder to treat myself like I would anyone I love.
I'd never accuse a loved one of being a terrible person for the same perceived sins I'm calling myself out for… not even in my head.
I am enough. And I will be gentle with myself first.
Be gentle first with yourself if you wish to be gentle with others.

~Lama Yeshe
Yesterday afternoon I was feeling a bit low and struggling to combat negative thoughts. Needing to raise my spirits before teaching yin yoga at Bound Lotus in the evening, I decided to bake a batch of muffins.
Baking generally distracts me from whatever's swirling around my brain, but I needed a little something extra to clear those negative thoughts. Cue the Gobinday Mukunday mantra, perfect for overcoming negativity. With SatKirin Kaur Khalsa chanting in the background I stirred my way to more positive thoughts and a dozen muffins.
Listening to meditative music while baking, cooking, or doing dishes is wonderful. I can't help but start chanting along and it turns into a quasi-meditation as my mind starts to clear.
Combining baking and quasi-meditation was perfect! The muffins are yummy, my negativity cleared, and I had a really lovely time teaching 🙂
Here's the recipe for my anti-negativity (aka applesauce pecan) muffins.
Applesauce pecan muffins
Ingredients
1 cup whole wheat flour
1 cup unbleached all-purpose flour
1 tsp baking soda
1 tsp ground cinnamon
1/2 tsp ground cardamom
1/2 tsp baking powder
1/4 tsp sea salt
1 cup unsweetened applesauce
1/2 cup unsweetened almond milk
1/3 cup maple syrup
2 tbsp vegetable oil
1 tbsp apple cider vinegar
1/2 tsp vanilla extract
3/4 cup pecans, chopped
Method
Preheat oven to 375°F and prepare a 12 cup muffin tin

Prepare muffin tin by lining with paper wrappers, inserting silicon muffin cups, or greasing with vegetable oil.

Stir together dry ingredients.
Combine applesauce, almond milk, maple syrup, oil, vinegar, and vanilla.
Stir wet ingredients and pecans into dry ingredients until just mixed.
Spoon batter into muffin tins and bake for 15-20 minutes; muffins are done when a toothpick inserted into the centre comes out clean.
Cool on wire racks.