Tag Archives:
cookies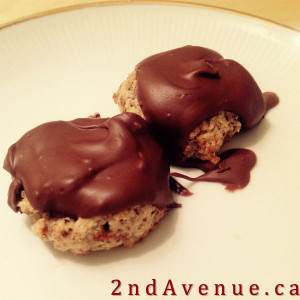 My commitment to daily meditation in March faded almost immediately after my mid-March update – and my commitment to posting seems to have ended with it 😉 I have, however, been making an inordinate number of meringue-based treats! Spring has been all about whipping up egg whites to use in pavlovas or cookies.
These Nutella-inspired confections are based on an Italian recipe for Brutti ma Buoni (ugly but delicious) cookies that has just three ingredients (egg white, sugar, ground hazelnuts). I've added a bit of depth with vanilla extract (or vanilla sugar) and amped up the deliciousness by covering them with chocolate.
These really aren't that ugly (especially when topped with chocolate!), but they sure are easy – and delicious! 🙂 If only committing to daily meditation was as delicious as meringue!
Hazelnut crunch cookies
Ingredients
1 large egg white
pinch of salt
1/2 tsp vanilla extract (if you have it available, use 3g vanilla sugar and cut down the regular sugar by 3g)
100g (2/3 cup) ground hazelnuts (ground almonds also work)
80g (1/3 cup + 1/2 tbsp) sugar
80g (1/2 cup) baker's chocolate (most chocolate chips contain wax and won't melt well, so stay away from those)
Method
Preheat oven to 150°C (300°F) and line baking sheet with parchment
Beat egg white and salt in a bowl with an electric mixer until stiff peaks form
Combine sugar and nuts; then gently fold mixture into beaten egg whites
Spoon teaspoons of batter on baking sheet, making sure they have a little room to spread
Bake until golden brown – about 30 minutes
Remove cookies from baking sheets and cool on wire rack
Melt chocolate over a double boiler or in the microwave
Dollop each cookie with a bit of melted chocolate and allow chocolate to set, which takes at least half an hour – you may need to hide the cookies in a cool location to keep from eating them while the chocolate is still soft 😉
I really enjoyed teaching on my birthday yesterday. There's nothing like lovely, appreciative students to make this birthday girl feel valued 🙂
It was great leading the class through some of my favourite yin postures while listening to some of my favourite yoga music (the playlist was heavy on Wah!, Snatum Kaur, and Deva Premal) and even more wonderful to chat with students over cookies afterwards.
As requested, here's the chocolate spice cookies recipe.
The recipe as written below is vegan and gluten-free, but you could easily use dairy milk instead of coconut (or soy or almond) if you'd rather and you could make it nut-free by using soy milk and omitting the coconut oil (just add a little extra canola oil). I've also used barley flour instead of the buckwheat, which makes the cookies less grainy and toothsome.
These cookies come together quickly and can be easily varied by switching up the spices or omitting them entirely and using mint chocolate chips or butterscotch chips – although they won't be fully vegan anymore.
If you try the recipe, let me know how they turn out!
Chocolate spice cookies
Makes about three dozen bite-sized cookies.
Ingredients
1 cup buckwheat flour
1/2 cup vegan chocolate chips (I use Camino)
1/3 cup unrefined sugar
3 tbsp cocoa powder
1 tsp baking powder
1/2 tsp baking soda
1 1/4 tsp ground cinnamon
3/4 tsp ground nutmeg
1 pinch ground cloves
1 pinch ground cardamom
1/4 tsp salt
1/4 cup maple syrup
1/4 cup canola oil (I ran out of canola oil so used grapeseed oil yesterday)
2 tbsp coconut milk (the kind in a tetra pack, not a can)
1 tsp coconut oil (warmed slightly)
1 tsp vanilla extract
Method
Preheat oven to 350°F (180°C) and prepare baking sheets by lining with parchment paper
In a medium bowl, sift together cocoa, salt, baking powder, baking soda, and spices; stir in flour, chocolate chips, and sugar
In another bowl, combine maple syrup, oils, coconut milk, and vanilla extract
Add wet ingredients to dry ingredients and stir until combined; if dough is too dry, add a splash of coconut milk
Let cookie dough sit in fridge for about five minutes (or while you tidy the kitchen) to make it easier to roll into balls
Form rounded teaspoons of batter into balls and place on lined baking sheets; gently press each cookie ball to flatten slightly
Bake for 11 minutes until cookies are firm to the touch, but bottoms are not browned
Let cookies sit on baking sheets for about a minute to firm up; transfer to wire racks to cool