Tag Archives:
breathing
I came back from the yoga retreat in the Czech Republic feeling relaxed and happy. Maybe a little too relaxed as my drive to write entirely disappeared.
The perfect balance of scheduled activities and free time at the retreat left me a lot of thinking space, which included pondering my ambition to write a book. I've been mulling over writing about breath and breathing from a variety of perspectives,1 but haven't buckled down and gotten much of anything done.
No solid outline, nothing drafted, just a bit of research, some scattered ideas, and a few bookmarked websites. My initial goal was to have an outline complete by the end of 2013, but almost 10 months have passed and I have found all sorts of other activities to occupy my time.
With the space to think about my nebulous dream to write a non-fiction book as enjoyable and informative as Mary Roach's Stiff, I realized that I don't have the necessary ambition – at least, not right now. I'm unwilling to muster the motivation and discipline to make it happen, which is making me feel guilty and delinquent. Those feelings, in turn, make me less willing to commit to writing and less likely to produce anything meaningful.
So, I'm tossing the idea of writing a book overboard. I'm abandoning my thesis on breath and breathing… and letting go of guilt.
Perhaps I'll circle back to the idea of writing a book later on, but for now I'll content myself with posting travelogues and recipes!
1 Possible perspectives on breath and breathing:
physical – drawing on my own experiences with blocked breathing and nasal surgery
spiritual – informed by my religious studies and yoga background
athletic – tapping a network of athletic experts and high-level athletes for insight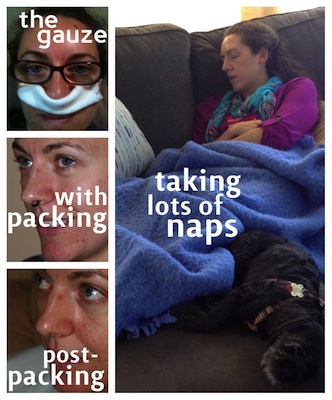 This time last week my nose was bleeding profusely, the result of septoplasty surgery some hours before. The surgery went exceptionally well; the surgeon was delighted, I had no adverse reaction to the general anaesthetic, and a recovery room nurse even called me "bright as a berry." Everything from waking up at 5:30am that morning and not eating to pre-op prep through to walking out of the hospital was almost effortless – much easier than I thought it would be.
The recovery, however, was not as smooth as I had anticipated.
While there wasn't much pain, there was a lot of blood. I didn't clot quickly and, even with the packing the surgeon left in my nose to sop up the bleeding, I spent the first couple days changing the gauze underneath my nose regularly and wishing for thicker blood.
Thankfully, the bleeding stopped after a couple days and I was left with discomfort, wooziness, and the continued joy of sleeping without fully lying down.
After a solid day without bleeding, it was time to get the packing out. The packing is great for controlling blood flow and keeping tissues separate so they don't fuse together while healing (particularly important as the point of the procedure was to give my nasal passages more space), but it does introduce greater potential for infection and it's damn uncomfortable.
I wasn't sure if the crusty strings dangling from my nostrils would come out with the packing or if they were part of the stitches. Turns out "packing" is code for "tampons" and the surgeon used those strings to pull them out.
Getting the packing out was brutal. All blood and saline and mucous and Otrivin. Without the general anaesthetic of the surgery, I didn't have the luxury of drifting off into oblivion while thinking about my favourite vacation spot and having the surgeon do all the messy work without me seeing or feeling it.
I left the hospital much less bright than after surgery and continued to ooze blood from my nose through the night. The next day I started experiencing head-splittingly painful sinus congestion, which didn't get any better when I burst into tears. Turns out crying doesn't make sinus congestion any less painful… but decongestants do 🙂
Equipped with Benylin (not my usual cold-fighter Advil Cold & Sinus as the ibuprofen wouldn't play nicely with the antibiotics and also acts as a blood thinner… not helpful when I'm trying not to bleed!), plenty of fluids, saline nasal spray, and lots of naps, I'm feeling much better. I'm still tired, but my nose hasn't bled for three whole days and the soreness is manageable.
I'm reminding myself to take it easy and not to expect that I'll be entirely well yet – the surgery was just a week ago!
While it's too early to say if the surgery has been a true success, I am already finding it easier to breath through my nose. Even with the congestion (along with the sutures and scabs that must still be there), there's an ease of movement through my nasal passages. The surgeon said he took a lot of bone out of my right nostril, so it's no surprise that things are clearer.
I'm hopeful that recovery will proceed smoothly and that within a few months I'll be breathing easy… any that maybe I'll even have stopped sleeping with my mouth open!