Tag Archives:
change
Large-scale change has been a constant for me over the last year and a half (new languages! new cities! new places to travel! new residences!) and, despite being somewhat settled in Calgary, there are still many more changes coming. To help me manage this upheaval, I'm undertaking a personal meditation challenge and committing to daily meditation for the month of March.
I've selected a Sanskrit meditation for abundance; partially to encourage my levels of energy and enthusiasm and partially just because I like the way it sounds 😉 I'll be chanting 108 repetitions of Om Shreem Mahalakshmiyei Namaha along with Deva Premal for the next 31 days and hoping that the regularity helps me feel content and calm.
The words are relatively simple (no long complicated Sanskrit phrases!), it takes under 10 minutes, and Deva Premal's version is well-paced and easy to follow (take a listen on YouTube, if you'd like). I'll have very few excuses not to stick to meditating for abundance in March!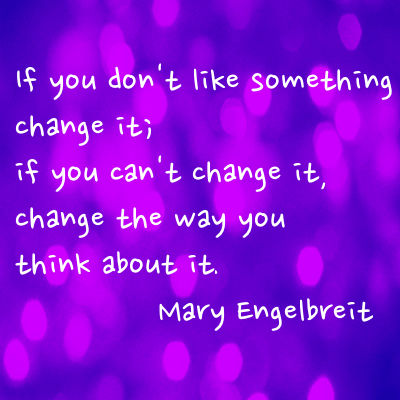 Practicing meditation can be a powerful way to change the way you think.
The Happiness Hypothesis by Jonathan Haidt posits that there are three ways to change your thinking and permanently alter the way you view the world: Prozac (or other similar medications), cognitive behavioural therapy, and meditation.
Meditation is the cheapest and comes with far fewer side effects that medication!
And I highly recommend taking a look at Haidt's website and reading his book. It's a scientific approach to why we think the way we do… and how to make ourselves happier.
If you don't like something change it; if you can't change it, change the way you think about it.